Firm Of The Future Blog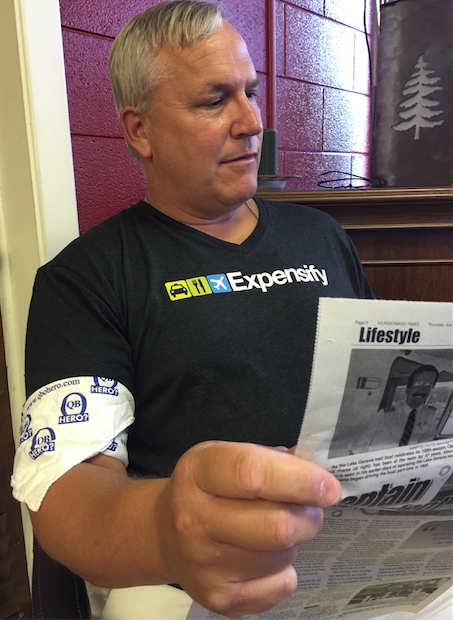 Fresh Relevant and MORE Tax Accounting Software Conversion BLOGS CLICK HERE NOW
KJ Tax & Accounting's Very First "Trusted Advisor"
When people ask me why I got into the accounting field, the answer is simple: I enjoy what I do. Every day. It's important to do what we love every day. As Theodore Roosevelt once said, "Far and away the best prize that life has to offer is the chance to work hard at work worth doing."
Allow me to share with you a story from my childhood past, which just might give you a bit of insight as to the kind of person I am. And, of course why all of our clients view everyone at KJ Tax & Accounting as a trusted advisor.
Way back when, there was a kid that went by the name of AJ. He dreamed of great success in this world, but also knew it would not come easy. AJ was always pressing. Always trying. He was creative, knew the value of helping others and always had a passionate vision for any project he was involved in.
At age 6, AJ asked how he could be of service to his dad's local barber shops. His dad put him to work and had AJ cleaning and sweeping to help. At age 10, AJ got a paper route. Since he wanted the 150 houses closest to him, he actually had to buy it for $90 from another kid. AJ then received the new delivery route, which was just a map marked with red felt ink.
So, on the morning of a new year – January 1 at 2:56 AM, the Sunday papers were delivered outside his home. AJ begins stacking them up on a wagon and is ready to go… but, the worst blizzard in a decade hits at 3:36 AM. All 136 newspapers are tossed around in a whirlwind, but AJ doesn't give up. He chases them down, reorganizes and assembles them back into the wagon.
During this time, the map gets wet! And, it's simply unreadable as sleet continues to penetrate though the paper. AJ thought the map looked like it had blood- stained tears on it, splattering his roadmap to success. After all, he had started to cry when he saw the map was ruined.
The blizzard was hitting hard, and he simply couldn't know WHO to deliver the paper to! AJ had no idea which 136 houses to deliver to out of 150 in his neighborhood. Now he started to cry even more, and harder. What to do? What to do? He was too young and proud to ask for help…
AJ realized he had to think on his feet – and fast! In that moment, AJ made a decision. He decided to deliver the 136 papers and short the 14 people closest to his house. After he delivered them, AJ called the delivery department at the newspaper and informed them he was 14 papers short. When the deliveryman dropped them off later in the day, he delivered to the 14 houses that didn't get a Sunday paper. Plus, he personally rang each bell to apologize for the late delivery and thanked them for their business.
Unbeknownst to AJ, when he was able to recover the actual subscribers and the addresses, the 14 other individuals that were not supposed to receive the paper paid him that week. They also became long time subscribers to the newspaper. So, this kid, with a lot of guts and goodwill, gained 10% more business by thinking on his feet in less than 2 hours.
Here's the most interesting part. Some of those same paper route clients call that kid their "Trusted Advisor" today.
This is my story. Although I'm no longer a kid, I'll always be passionate about helping others to find success. As an accountant and CPA, I want to assist firms to make the switch to online accounting. Why? Because technology really does allow for more free time. It's up to you how you want to spend it.
We know that technology is the way of the future. Our switch to online accounting and other software programs has truly made us a firm of the future. Our team at KJ Tax & Accounting are dedicated to our customers, have a passion for the work we do and definitely demonstrate true grit when it comes to getting things done. And, if you work with us already – then you know this to be true already!
Make the day count.
(Pun intended of course!)
- - - - - - -
James N. Filicetti, CPA
KJ Tax & Accounting, LLC
501 East Main Street
Waterford, WI 53185
(262) 514-3800 x102
Connect with us on social media as well!
Facebook http://www.facebook.com
LinkedIn http://bit.ly/kjtax-linkedin
Twitter http://twitter.com/kjtax
---
Welcome To Our New KJ Tax & Accounting Blog!
Our New Web Blog Link is
KJ Tax & Accounting, LLC is a full service tax and accounting firm that is seen by Intuit as being in the top 1% in technology, innovation and vision for the profession. Our business started in December of 1997 by delivering flyers in newspaper tubes in a town of 4,000 people. At that point, we had the vision of an office whereby CPA's could actually work smarter and not harder.

Tax and accounting professionals want to focus on adding value to the individual client, their family and their business – while also making certain customers are paying the least legal amount of tax possible. The CPA profession is the most information-intensive occupation in the world. We are the last independently run, (mostly) non-regulated profession as well. Right now, we are seen as the last of the largest small businesses left in the United States.

That's why we are starting this blog, so that we can be supportive to the people within our industry. Future blog posts will go into detail about KJ Tax & Accounting and the other businesses we have created over time. Honestly though, it all started with KJT. And, we are here to tell our story!

As always, please feel free to let us know your thoughts, or respond directly through the blog comment area. KJ Tax & Accounting wants to be there for YOUR practice. Especially the forward-thinking ones that want to harness the amazing Intuit technologies available out there – and so we can assist Intuit in creating many more outstanding "Firms of the Future."

Make the day count.
(Pun intended of course!)
- - - - - - -
James N. Filicetti, CPA
KJ Tax & Accounting, LLC
501 East Main Street
Waterford, WI 53185
(262) 514-3800 x102
Connect with us on social media as well!
Facebook http://www.facebook.com
LinkedIn http://bit.ly/kjtax-linkedin
Twitter http://twitter.com/kjtax